Going freelance needn't be a barrier to getting a mortgage. Nicola Schutrups offers tips and guidance to help the newly-self employed through the application process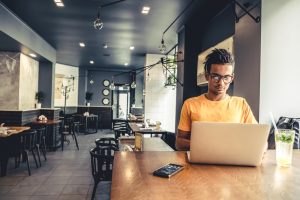 There are nearly five million self-employed people in the UK and, despite the fact they make up around 15% of the workforce, there is a lot of misinformation and outdated ideas flying around when it comes to their mortgage eligibility.
This leads a lot of self-employed workers to believe they can't get a mortgage. It's a little known fact that there are specialist lenders, and even some high-street lenders, who will consider loans for self-employed people, including those with changeable income or who have received the Self-Employment Income Support Scheme (SEISS) grant for those whose income were impacted by Covid.
Being self-employed can be seen as a barrier to home ownership but, with good advice, the right information and help from an expert, getting a mortgage if you're newly freelance doesn't have to be a pipe dream.
Proving your affordability
When you first start out as a new business owner, chances are you won't have any accounts or financial records that show your true income – but these are exactly what you need when applying for a mortgage.
There are companies out there who offer business loans specifically for mortgages, but these can be incredibly expensive, often requiring extra guarantees in the form of your assets or property.
Still, if you're in your first year of trading and yet to complete a tax return, it's unlikely a high-street lender will accept your mortgage application.
This is because these lenders are under intense scrutiny to prove they are responsible with their lending, and so base their decisions on an applicant's proof of affordability.
Without at least your first year's tax return, you won't be able to prove your affordability, meaning they won't be able to lend to you. This is the case even if your first few months of freelancing have been a huge success.
The best way to ensure your mortgage application is successful is to use a specialist broker. Brokers have access to hundreds of lenders who will happily approve mortgages for people in all different circumstances.
There are even lenders who will accept one years' trading accounts with accountants' projections for the second year.
It's a common misconception that using a specialist lender means you'll need to pay a higher rate but this isn't necessarily the case.
In fact, some of the mortgage rates offered by these providers are better than those offered to people in more traditional forms of employment. It's all about working with your broker to find the right deal for you.
Preparing for the application
Each lender has different assessment criteria and some are more welcoming to self-employed applicants than others.
Your circumstances as a whole will affect the lender's decision to approve you or not, and the main areas lenders consider are:
Your credit history and credit score
Your income
The type of property you're buying
How long you've been trading for
Your age
The size of your deposit
There are a number of different ways to evidence your income. If you're a sole trader, you'll need to submit a tax return from HMRC (known as an SA302), but if your freelance work is done under a limited company, you'll need to submit copies of your accounts signed off by a qualified accountant.
The good news is being self-employed won't affect how much you can borrow. It's usually the same as someone in traditional employment – around four to five times your income, depending on your credit score and the lender criteria.
As mentioned, there's also the possibility of a lender looking at your income projections and taking that into account. For example, if you've been trading for a year-and-a-half, you should have one full year of accounts, plus six months of the second year.
If you're currently in full-time employment but are considering going freelance in the next 12 months, the general advice is to stay in employment.
As a freelancer, the more years of trade you have, which show your ability to make an income from your chosen profession, the more reliable you appear to lenders.
In fact, once you've been trading for more than three years, most lenders will consider you in the same way they would consider a standard mortgage application, so if you can hold off, it will be to your benefit.
Top tips for securing a mortgage as a freelancer
As discussed in this article, being self-employed doesn't automatically mean you'll be denied a mortgage. However, taking the following steps before applying will certainly strengthen your chances of being approved:
Try to keep your income steady, or growing, as you progress through the year. If you can, avoid having too many gaps between your contracts.
Get a copy of your credit report to understand what mortgage lenders see when assessing you as a borrower. Don't worry if your report shows adverse credit as this might not result in an automatic rejection, and the sooner you find out what the problems are, the sooner you can take steps to rectify them.
If you're in a position to do so, try to save a larger deposit. This will lower your loan-to-value ratio, meaning you can borrow less and potentially pay less interest.
Keep on top of your trading accounts and make sure they're filed correctly with HMRC. Getting your paperwork in order will make it easier for lenders to assess you when the time comes to apply.
And finally, seek advice from a mortgage advisor who specialises in securing loans for freelancers. They'll have access to a wide range of mortgages and can help you through the application process, advising you on the products you're eligible to apply for and have the highest chance of approval.
Nicola Schutrups is the managing director of mortgage broker, The Mortgage Hut