LOUISVILLE, Ky. (WDRB) — Appliance Park's roughly 4,100 rank-and-file workers have rejected a second contract offer from GE Appliances.
Despite an endorsement from the workers' union as the best-available deal, 57% of members who participated in Thursday's ratification vote rejected the contract, according to a post on the union's Facebook page. 
The three-year deal offered a freeze on healthcare costs; immediate hourly wage increases of up to 10% (not factoring in temporary "appreciation pay" that the company will remove next week); and a $1,500 bonus to be paid in December in lieu of raises next year.
The rejection comes after union workers said 'No' to a four-year proposal by a nearly 9-to-1 margin in September.
Work at the sprawling southeast Louisville manufacturing campus goes on as normal while the company said it "will be taking time to evaluate potential next steps."
"We are extremely disappointed that employees did not vote to accept the most recent proposed contract," GE Appliances spokeswoman Julie Wood said in a prepared statement. "For the second time, the proposal was unanimously endorsed by the IUE-CWA negotiating team at the local and national levels. For months, we have actively engaged in open dialogue and negotiated a very competitive contract. This agreement offered substantial wage gains, no increases in payroll contributions for healthcare for three years, additional flexibility to manage work and personal life, and other added benefits."
Dino Driskell, president of IUE-CWA Local 83-761, said in a brief phone interview that he was "kind of at a loss" to explain why his members rejected the contract.
"I don't know. I thought the wage package was good," he said.
Driskell said local union leaders would consult with the IUE-CWA's international office about what happens next.
"We will re-group tomorrow and see what our next steps are," he said.
The rejection of the deal comes a time when appliance manufacturers are struggling to keep up with demand, as people upgrade their kitchens amid the pandemic.
Wood declined to discuss specific inventory levels, but said the company "has seen record demand on certain product categories such as freezers since the start of COVID-19 and people began spending more time at home.
"Usage of appliances is high as people spend more time with their families under one roof cooking, cleaning and storing food," she said.
Three rank-and-file workers told WDRB on Friday that they voted against the deal because it didn't deliver enough gains, mainly in terms of pay increases.
The contract would have boosted wages immediately by up to $1.50 an hour, depending on workers' seniority.
At the same time, GE Appliances has been giving all workers an extra $1 per hour in "appreciation pay" since August, but that extra pay will end next week, offsetting the raises that workers would have been due had they approved the contract.
When asked why, Wood said: "We temporarily increased employee's pay at various times during 2020 as a thank you for supporting our efforts to meet customer needs as we worked through the initial COVID-19 crisis, and more recently on August 24, to support the additional hiring and training of new employees during the heat of the summer as we ramped up production."
Jobs at the park start at $14.50 per hour, not including the $1 in appreciation pay. 
Aaron Little, a GE Appliances production worker hired in 2012, said he voted against both contracts. 
Little said workers still resent the way the company handled the onset of the pandemic, "rushing us back" to work after a one-week shutdown of the manufacturing campus.
Workers showed their displeasure at the decision during a rally on March 28, but ultimately relented in being called back.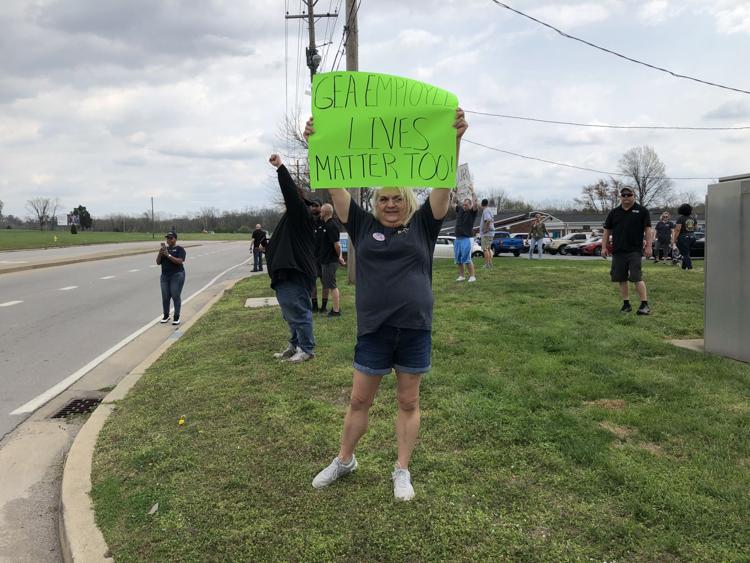 "That has stuck in our minds," Little said.
Wood, the GE Appliances spokeswoman, said the one-week shutdown was "to enhance safety precautions inside our facilities, which included increased spacing through all areas, barriers at workstations as needed, temperatures checks, and sanitization procedures. We have remained operational since that time while continuing to support our employees and following strict health practices for the safety of our communities."
Two other workers, who requested anonymity for fear of retaliation by the company, said they were underwhelmed by the wage gains in the contract.
"We are 'essential' (workers) and they are booming right now. It makes no sense why it can't trickle down to us," one of the workers said.
She was hired in 2008 at just under $15 an hour, she said, and now earns just under $20.
"I have been here 12 years and I don't make $20 (an hour). We can't grow here, but the company is growing," she said. "The higher-ups' (paychecks) are growing."
The other worker, hired in 2009, expressed similar frustration. He also makes less than $20 an hour after more than a decade at the park.
"The basic thing that everybody is concerned about, is a little more increase in pay. That's all they want," he said. "We know that it's not gonna be like it was when people were making 30 bucks an hour. We understand that. We just want a fair wage."