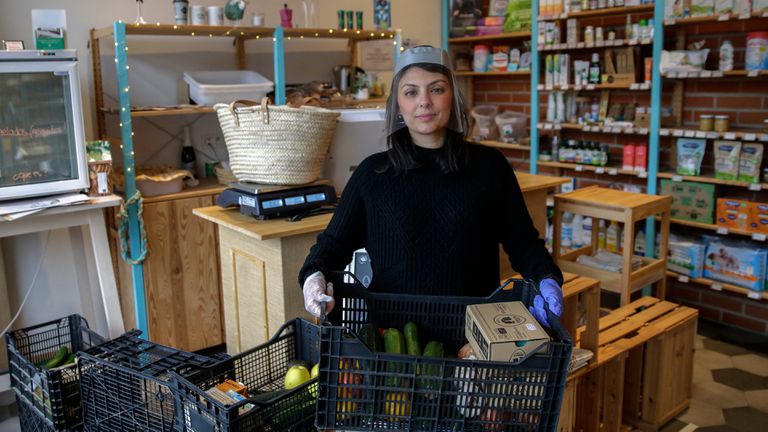 Flavio Rodríguez says that on a normal Friday he could sell up to 2,000 sandwiches. Accompanied by a soft drink, he dispatched them (and hopes to do it again soon) at three euros at lunchtime and "people came from all over the estate" [de San Sebastián de los Reyes] where he has had a sausage shop and a restaurant for 24 years. The happy coronavirus has closed the restaurant and made his life bitter – "I don't know what's going to happen," he laments. Faced with a situation that keeps seven of his 10 employees at home, Rodríguez sees how the internet business "begins to cheer up" and the delivery of orders at home by phone. At the moment, he does not come anywhere close to cover the usual income, but today it is his only lifeline.
Like Flavio, many other neighborhood merchants and small businesses have seen internet and home delivery, which they may never have thought of doing, as a handle for these times of confinement. Flavio's case is obvious. His store was open from nine in the morning to nine at night, but these days, with hardly any people coming by (he is in an industrial area with not too many residents around) he closes at three in the afternoon. He thanks that he has his premises in property and clings to the home delivery, which they previously made timidly, to survive. Shipments to Alcobendas or San Sebastián de los Reyes are made by themselves. If it is outside, they have a company. Ensures they normally deliver within 24 hours. In the second week of confinement, he explains, the theme of the requests "is encouraged by encouraging, by word of mouth and by WhatsApp."
Also thanks to WhatsApp groups, Óscar López's business has been saved. He has a fruit and vegetable distributor in Pinto that until recently only sold to bars and restaurants. "With the closing of the bars, my sister, who is a lawyer, came up with the idea of ​​sending the contact to her group of lawyers, to that of the children's school, etc.", she tells by phone. Result: from having the business completely stopped on the first Monday of alarm, to billing ten days later about 80% of what was entered before the virus. "Fortunately, I have my 18 employees and the three vans and eight trucks working, delivering." On Friday he delivered eight orders to a community of residents of San Sebastián de los Reyes.
It is not just that many of these small entrepreneurs can maintain an income path with the distribution. Its service constitutes an alternative to large distributors, whose sales services on-line they remain collapsed. Mercadona, the absolute leader in distribution in Spain, has suspended the sale on-line except in the areas of Valencia and Barcelona where it works through specific warehouses, beehives, and the websites of El Corte Inglés, Eroski, Dia and others are overloaded and deliveries take at least a week.
"There is a brutal demand," explains Óscar, who ensures that each day he receives twice as many orders as the day before. Enrique Rivas, butcher of Alcobendas, says "overflowed"; So much so, that he is looking for a delivery man for home orders. "Before, I had the website, it was a complement, maybe six or eight orders a day, but now it's a barrage, more than 50". In view of the drop in visits to his store, he added a phone to the web for orders, "but I have had to remove it, and on the web I have had to limit the postal codes where I deliver." That yes, with the work that takes preparing orders, has reduced the assortment. "We are with the basics," he says.
Sara Giacalone, who has been operating Cocómero, an organic fruit and vegetable store on Calle Embajadores in Madrid, for three years, confirms that the first days of alarm, with the overflow of supermarkets, recorded a peak in sales. "Now it has normalized a bit, but I am billing almost the same as before, and almost no one comes to the store," he explains. I had never sent home orders before, but "now I only work like this and they are asking me from other neighborhoods," he says. "People began to ask us a lot and we have sought life," he explains.
How? Sara has a delivery man, "a boy who works in a company and helps us later", making all the deliveries at once in the afternoons "only from Monday to Friday". It has rejected having Glovo, because it requires immediacy in the preparation of orders. "As soon as it comes out in the system, you have to prepare it, because a delivery person shows up right away, and you would also have to manage the catalog on-line"In the app, he explains. So he said no. "I prefer to go at my own pace," he says. Óscar López has also had to improvise the organization of the casts. "Before, with restaurants, each delivery man had his route. Now it is total chaos, "he says, but he assures that he will organize.
That is a problem that Juan Fernández, manager of the Medina Chicken Shop, has solved in the La Paz market in Madrid. The center has the Mercado47.com platform, launched a couple of months ago so that several markets in Madrid sign up for electronic commerce and the distribution is done by a company that has an agreement with the market. "Before the orders were minimal, but these days we are billing 80% this way, about 75 orders, and at the counter only 20%, while before the closure it was 30-70," he says by phone. He has lost some turnover, because, like Óscar, he sold a lot to the hospitality industry. "We did not get to what we were before, but thank God we remain at a remarkable high," he says.
Food travels by elevator to avoid contact
The fruit and vegetable delivery people of Óscar López, dressed in a mask and gloves, leave the cardboard boxes with the order in front of the customer's door, leave the note on top of the last one and leave after a brief exchange of words. At no time has the safety distance of one meter been broken. But in general, even less contact is sought in the delivery of orders. Both distribution and delivery companies have launched risk-free delivery formats, so it is even common for food or product purchased remotely to travel on their own in the elevator.
In fact, the main home delivery platforms (Glovo, Deliveroo, UberEats and Stuart) have developed, together with 29 chains and catering SMEs, a 'Guide to a safe delivery for all' with general recommendations for both delivery in the domicile as well as for the preparation of merchandise in the restaurant to safeguard the health of both delivery people and customers.
For its part, the Ministry of Industry, Commerce and Tourism also produced a 'Guide of Recommendations for the development of remote commercial activity and supply of rural areas without commercial premises', in which it encourages increased delivery formats' click & car 'o click & collect, which sets out hygiene and organization guidelines for merchants who distribute basic products in vehicles in towns that do not have shops.
Information about the coronavirus
– Here you can follow the last hour on the evolution of the pandemic
– The coronavirus map: this is how cases grow day by day and country by country
– Questions and answers about coronavirus
– Guide to action against the disease
– In case of symptoms, these are the phones that have been enabled in each community
– Click here to subscribe to the daily newsletter on the pandemic